Glossary
TeamGear Canada's Full Sublimation 101: Glossary of KEY Terms
Our comprehensive guide will define the fundamental terminology of the full sublimation industry. Whether you're a custom sportswear enthusiast or want to learn more about the full sublimation printing industry, this glossary is an essential guide.
Looking to design your own full sublimation custom jerseys? Get started here!
Introduction to Full Sublimation
Before we dive into the glossary, we'll begin with a brief introduction to full sublimation and what it entails.
One of the distinctive features of full sublimation is its ability to cover the entire garment, even traditionally blank areas like seams, collars, and cuffs.
How does sublimation work?
Full sublimation is a printing method that uses a combination of heat and pressure to infuse dyes directly into the fabric. The full sublimation process allows you to create vibrant, long-lasting, and fully customizable designs on clothing.
In the world of custom-designed clothing, team jerseys, and sportswear, full sublimation stands out as the most superior printing quality.
Visit our blog to learn more about Why Full Sublimation is BEST for your Jerseys
SKIP TO LETTER



Glossary of KEY Terms in the Full Sublimation Industry
Artwork Mockup
An artwork mockup is a digital representation of how your design will appear on a garment. Mockups allow you to visualize how your custom clothing will look before production.
Check out our 10 Tips For Getting Your Custom Jersey Made EXACTLY the Way You Want It
Interested in creating your own custom mockup? Click here to get started!
Also known as: Design Mockup, Design Concept, Design Layout, Mockup Panels
---
Athleisure Wear
Clothing designed for both sports and casual lounge wear. Athleisure Wear includes yoga pants, track pants, leggings, comfortable jerseys and much more.
---
Band Collar
A band collar is a collar style that stands up straight around the neck, with no lapels or folding. This collar type is typically seen in formal attire, like dress shirts or blouses, and is a great choice for a more professional look.
---
Cap Sleeves
A shorter, cropped style of sleeve that provides minimal shoulder coverage. Cap sleeves are often used in ladies clothing, and are a popular choice for custom volleyball jerseys.
Interested in playing volleyball? Check out What Equipment you Need to Play Volleyball.
---
Compression Fabric
Material designed to provide support and reduce muscle fatigue during physical activity.
---
Crew Neck Jerseys
Jerseys with a round neckline, as opposed to a v-neck.
---
Cuffs & Waistband
Cuffs are the bands of fabric at the end of the sleeves, designed to create a snug fit around the wrist. Cuffs help provide a finished and polished look to sweaters. With full sublimation, cuffs can be printed with different colours and patterns.
The waistband is located at the bottom of the sweater or hoodie and provides a snug fit around the waist and hips. Waistbands, like cuffs, can also be printed with designs using full sublimation.
Cuffs & waistbands are typically an optional add-on for custom sweaters and hoodies. If you're interested in designing your own hoodie, get started with our team here!
---
Custom Full Sublimation Jerseys
Personalized sports jerseys featuring unique designs, logos, and colours printed with full sublimation inks. Custom Full Sublimation Jerseys usually have player names & numbers on the back, and a custom team logo placed prominently on the front.
Take a look at the 5 most popular styles for custom jerseys in our blog post here!
Also known as: Custom Sports Apparel, Custom Sportswear, Full Sub Jerseys, Sublimation Jerseys, Custom Athletic Apparel
---
Cut and Sew
Cut and sew refers to the method of creating custom sportswear by cutting out fabric pieces and sewing them together to form the final garment.
---
Dry-Fit Fabric
Dry-Fit fabric is often used for custom jerseys, long-sleeve shirts, and lightweight hoodies. Dry-Fit typically has micro-mesh holes that help keep you cool and comfortable all day.
---
Full Sublimation Printing
Sublimation printing allows ink to transfer itself permanently on fabric. This method is used to produce high-resolution, full-colour prints on custom sportswear.
Full Sublimation Printing is the best way to print designs that cover an entire garment, including cuffs and necklines.
Interested in learning even more about full sublimation printing? Check out why full sublimation is The Future of Sportswear Design in our blog post
Also known as: Dye Sublimation, Full-Body Sublimation, All-Over Prints, On-Demand Prints
---
Game Jerseys
Game jerseys are the primary uniforms worn by sports teams during official matches and competitions. These jerseys are specifically designed for game-time use, with team colours, logos, and player numbers. Game jerseys represent a team's identity and are easily recognizable by fans and opponents.
Read more about the differences between Game Jerseys vs Practice jerseys in our blog.
Also known as: Game Day Apparel, Team Jerseys
---
Gradient
A gradual transition of colour, often from light to dark or vice versa.
---
Graphic Design Software
Design software, like Adobe Illustrator or CorelDRAW, is used to create and modify artwork before the sublimation process.
---
Heat Press
A heat press machine is used to transfer the sublimated design from paper to fabric by applying heat and pressure.
This final step in the full sublimation process is sometimes referred to as "curing". The heat treatment is applied to the sublimated print, permanently bonding it to the fabric and ensuring its longevity.
Also known as: Heat Transfer Process, Heat Treating
---
Home & Away Jerseys
Home and away jerseys refer to the pair of distinct uniforms worn by sports teams in competitive sports. Home & Away jerseys often feature the same design but with a different colour scheme.
Also known as: Alternate Jerseys
---
Libero Jersey
A libero jersey is a specific type of jersey used in indoor volleyball. The libero is a defensive specialist player allowed to wear a different jersey from the rest of the team. Libero jerseys are typically of a contrasting colour and are designed to easily distinguish the libero on the court. They play a crucial role in differentiating the libero's role in a volleyball match.
Check out these 3 KEY Things to Look for in Custom Volleyball Uniforms and get started on your own design here!
Also known as: Volleyball Libero Jersey
---
Mesh Panels
Areas on a jersey with a breathable mesh fabric. Mesh panels are most often seen in custom hockey jerseys as an optional add-on.
Also known as: Side Mesh
---
Moisture-Wicking
Material that allows air circulation, keeping the wearer cool. It pulls moisture away from the skin to keep athletes dry. Some custom sportswear companies have their own terms for their moisture-wicking fabric. For example, our Premium Sport fabric, which is lightweight and durable for all sports and seasons.
Also known as: Breathable Fabric, Lightweight Fabric
---
Pantone Matching System (PMS)
A colour-matching system that ensures consistent colours in printing. Pantone colour matching uses codes for specific colours in your design to accurately reproduce them during the sublimation printing process.
Colour matching on custom jerseys is a fine art. Check out our informative post to learn the details of colour matching: What you see on screen vs. on fabric
---
Pinstripe Jerseys
Pinstripe Jerseys provide a classic look with thin, vertical stripes known as pinstripes. The New York Yankees white uniforms feature pinstriped jerseys and pants.
Also known as: Pinstripes, New York Yankees stripe jerseys
---
Polo Collar
The distinctive feature of a polo collar is its ability to be turned up to cover the neck, providing a smart-casual look. Polo collars add a touch of smart-casual style to a garment and is often used for sports like bowling.
---
Polyester Fabric
Synthetic fabric known for its ability to hold vibrant colours. White polyester fabrics are most commonly used fabric for sublimation prints that are resistant to fading.
Check out our fabric options for custom jerseys here!
---
Practice Jerseys
Practice jerseys are primarily worn during team practices and training sessions. They are used to distinguish teams during practice while saving the official game jerseys for actual matches.These jerseys are often made cheaper than game day jerseys, featuring simple designs and colour schemes. Some teams may also opt to wear their own personal clothing as practice jerseys, or arrange to wear matching colours.
Also known as: Training Jerseys
---
Print Panels
A layout of the individual pieces of your garment. Each piece is sublimation printed, cut out, and then sewn together to create the final product.
Learn how to read and understand your Custom Jersey Print Panels & Mockups in 3 Simple Steps.
Also known as: Print Proofs, Final Mockup
---
Pro Team Jerseys
Pro team jerseys are the official uniforms worn by professional sports teams. They are carefully crafted by the team's jersey supplier, and designed to reflect the team's branding. Pro teams have sponsors and other resources that pay for their pro team jerseys.
Also known as: Official Team Jerseys, Professional Jerseys
---
Raglan Sleeves
A style of sleeve that extends to the collar, providing greater freedom of movement. Raglan style sleeves are often seen on sweaters and jackets.
---
Replica Jerseys
Jerseys worn by supporters and fans of a sports team. Replica jerseys are typically lower-cost versions of official team jerseys. Similar to the big leagues, fans of all sports will often wear jerseys to support their local teams.
Also known as: Fan Jerseys
---
Sizing Chart
A guide to selecting the correct size for your custom jerseys or sportswear.
Learn how to Use a Measurement Chart To Get Your EXACT Size When Ordering Custom Jerseys!
Also known as: Size Chart, Size Guide
---
Sponsor Logos
Logos of companies or brands that sponsor a sports team. Sponsors often contribute annual funds towards custom team jerseys, event fees, and more.
Also known as: Sponsor Tags
---
Sportswear Supplier
Companies that provide custom sports apparel and equipment.
Also known as: Custom Apparel Manufacturer, Sporting Goods Store, Sportswear Manufacturer, Sportswear Factory
---
Strikeout Jersey
A strikeout jersey is part of a playful tradition in many slo-pitch teams. The jersey typically features a humorous and lighthearted design, and is worn when a slo-pitch player strikes out during a game.
Strikeout jerseys often feature unicorns and bright colours, like the Oddballz Strikeout Jersey above!
Check out our list of 150+ Slo-Pitch Team Names for more design ideas!
---
Sublimation Ink
Sublimation ink is used in the sublimation printing process that turns into a gas under heat.
---
Sublimation Transfer Paper
Sublimation Transfer Paper is a special type of paper used to transfer sublimation ink to fabric. It holds the sublimated ink and is used in the heat transfer process to imprint the design onto the fabric.
---
Team Identity
The unique image and branding of a sports team. A team's identity is built around their custom team colours, logos, mascots, jerseys and sponsor logos.
For more information on team colours check out our blog post on Unifying Your Team With the Right Colours
Looking to create a unique identity for your team? Consider a Team Name that Doesn't End in S.
Also known as: Team Brand
---
V-Neck Jerseys
Jerseys with a V-shaped neckline. V-necks are a popular choice for baseball button-down jerseys and basketball jerseys.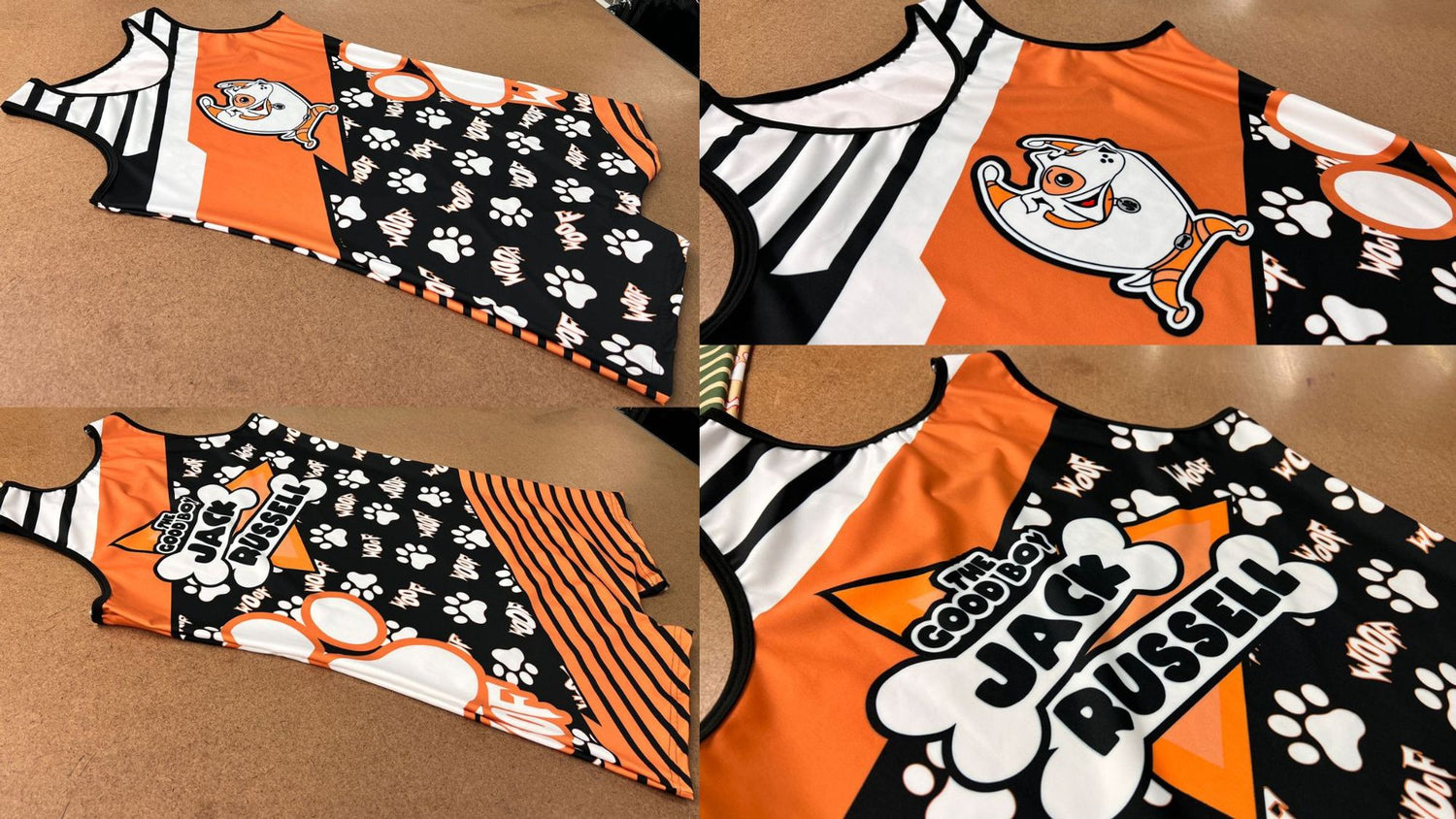 ★★★★★
I ordered stuff last fall, but hadn't got a chance to wear the stuff. I finally had the opportunity and can officially say it's awesome. I ordered two wrestling singlets, which they helped design, and had them shipped for an extremely low price. The quality is fantastic. They're also quick to respond.
Will be ordering more in the near future.
Thanks, Team Gear!
Nate L, The Good Boy Jack Russell Pro Wrestling